What is Managed Print Services?
Life without technology is difficult to imagine. Since its emergence, technology has brought unparalleled convenience and growth opportunities not only to individuals but also to a huge number of firms. Today's businesses hugely rely on the power of technology to carry out most of their operations and keep pace with the fast-changing industry. For decades, technology has continued to produce incredible changes that help increase business productivity and efficiency.
One of the most remarkable advancements that technology has introduced to the business market is the use of print services. Print services have played a considerable role in the communication and marketing tactics of almost all successful organizations. Businesses, of all sizes and shapes, take advantage of print services to disseminate information, expand their reach to a target audience, and make their presence more visible. When it comes to choosing a print service, entrepreneurs must take into account the changing needs of their businesses. In an age where technology and market demands change rapidly, it is extremely important for firms to stay up to date to avoid frustration and unnecessary costs.
Important Benefits of Using Managed Print Services
Managed print services are by far the best option for businesses that need a flexible and efficient solution to optimize their print capabilities and efficiently manage their documents. Managed Print Services or MPS are basically a range of services offered by print providers to help businesses handle their document output and streamline printing processes. MPS is not a new trend and has been part of the industry since its early days. As technology advances and more amazing innovations surface, Managed Print Services has become more efficient and highly reliable. This has made MPS an enormously significant part of every business operation.
Data is considered one of the most essential assets of a business because it helps improve business processes and helps organizations understand trends, patterns, and preferences to achieve their goals. Businesses continuously create data that are crucial to their operations. The amount of data that businesses need to deal with has become quickly overwhelming. To conserve resources and save time, more and more companies are turning to services that can help them streamline the process. However, aside from storing and handling data, one of the biggest challenges faced by businesses today is how to fully protect and secure their information against a wide range of destructive threats and unforeseen risks. The inability to preserve and protect data can damage a firm's reputation and worse lead to loss of consumer trust. While businesses use a number of security methods such as authentication and encryption to ward off threats and rigorously secure their network, they often tend to overlook the security of their print and imaging industry. Document snooping or theft is just one of the most common print-related security breaches that companies experience which often happens when copies of highly sensitive information are left unattended in print trays. That, however, covers only a small portion of the problem. Unsecured printers can also create a potential entry point for unauthorized users and allow hackers and other cybercriminals to exploit network resources. One of the most straightforward and successful ways that businesses can employ to protect business content and secure their print and imaging infrastructure is to invest in Managed Print Services. These services help businesses preserve the integrity of their data and sturdily respond to a plethora of attacks by providing a multi-layered security strategy and a full spectrum of effective monitoring solutions.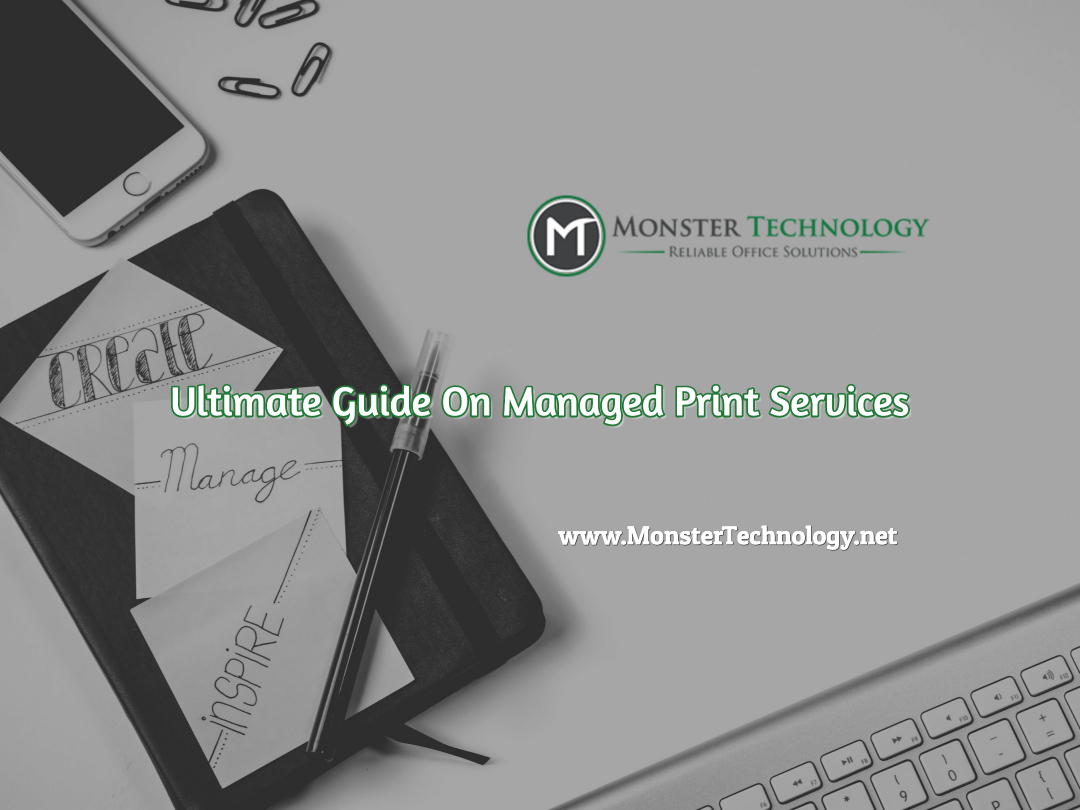 Getting one's business off the ground is not an easy task. It requires a lot of hard work, focus, and good time management skills. The responsibilities involved can be overwhelming and extremely stressful. That is why entrepreneurs, especially new ones, often find themselves struggling to meet the growing needs of their business and keep pace with the changes in the industry. Since printer-related tasks can take up a lot of company time, investing in Managed Print Services can be a good and valuable decision. Managed Print Services help streamline printing processes to give organizations more time to focus on the other important aspects of their business and accomplish a lot more. Having Managed Print Services in place gives companies access to tech and maintenance support so they no longer have to spend their time handling printing issues and finding solutions to equipment breakdowns. MPS also provides remote and mobile printing solutions to the printing process to eliminate wastage of time caused by going to and from the printer. It also reduces operating costs by eliminating the need to maintain a fleet of costly and outdated equipment.
Aside from helping businesses save time and cost and speed up operations, MPS solutions offer assistance tailored to address the various printing needs of every department. Another perk of using Managed Print Services solutions is that some providers provide staff training to help employees gain skills and make them more equipped to perform their jobs.
Tips for Choosing a Managed Print Services Provider
It is important to remember that not all Managed Print Services providers are created equal and can deliver the same quality results. With so many companies offering the same services, finding a competent and reliable Managed Print Services provider can be a colossal feat. Thus, for those looking for a Managed Print Services company Los Angeles, it is important to consider a number of factors before making a decision.
Before signing the deal, entrepreneurs must evaluate their goals. One of the reasons businesses fail is because they lose sight of their goals and don't know where to pay attention to. Having a solid goal in place will give companies an idea of what will work for their business. Hence, they should choose a provider that can adequately respond to their specific needs and help them get to their goals. Another important factor to take into account is the capability of the provider to efficiently improve document workflow. A good MPS provider can eliminate the burden associated with the handling of document output devices and processes.
Security should also be a top priority when choosing a Managed Print Services company. It cannot be denied that one of the biggest challenges to security lies within the printing environment. To protect themselves from these vulnerabilities, businesses must opt for a provider that can offer unparalleled data protection and strong security solutions.