Print Server Role In Today's Businesses
It is no secret that the best way to survive and thrive in today's highly unstable business arena is to embrace the potential of revolutionary technological developments. Whether a company grows or dies largely depends on its capacity to keep up with the curve of technology. One notable benefit of technology is that it allows organizations to accomplish more with less time and resources.
The print environment is just one of the many areas of business that require technological innovation. Printing plays a crucial role in business. Even in today's digital era, organizations still see the significance of incorporating print into their marketing efforts and day-to-day operations. A growing number of businesses are leveraging the power of print to effectively communicate their ideas, motivate sales, and expose their brand to a wider range of audiences. However, it is not enough to just have a printer in place. Using inefficient and outdated technologies can potentially cause frustration and led to a massive loss of time and money. As technology evolves at a rapid pace, businesses must stay up-to-date with the most recent innovations to improve efficiency and avoid disruptions. A good way to streamline the printing process is to use a print server. However, before adding this innovative technology to their print environment, businesses must learn and understand how print server functions to maximize its potential.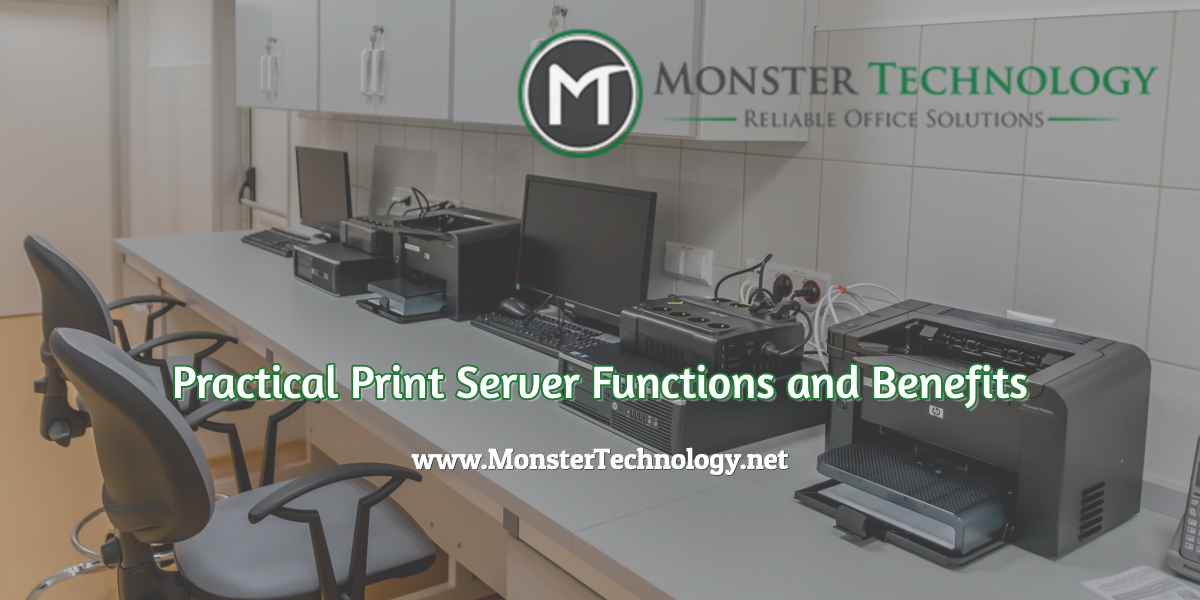 How Print Server Functions and Benefits Businesses
Years of innovation have led to the emergence of cutting-edge print technologies that enable companies to streamline their printing process and significantly increase their day-to-day productivity. One important innovation that businesses should incorporate into their print environment is the print server.
A print server is basically a network device that enables users to share a printer over a number of computers. Since print server functions as intermediaries between computers and printers, a single print server can efficiently respond to numerous printing requests from various clients without the need to attach a printer to every workstation. In order to successfully perform printing tasks in a network that contains multiple printers, print servers should be properly connected to a computer network. There are several available options when it comes to connecting a printer to a print server. One straightforward option is to connect it physically to a file server using a reliable USB connection. Network-based print servers, on the other hand, connect a device directly to the printer. There are many ways to connect a printer to a server, and each varies depending on the type of computing software applications used. UNIX-based operating systems such as Linux have built-in capability for print servers.
In today's ferociously competitive business market, companies, regardless of size, must utilize every tool they have to keep pace with the competition, maintain a stable presence, and establish a more meaningful and robust connection with their consumers. Although printing may now appear obsolete, it remains essential to the long-term survival of every business. In fact, a huge number of businesses still rely on their print infrastructure to market their products and grow their brand's influence. For organizations that rely heavily on printing to support important business processes, using a print server can be incredibly useful. One reason why print servers should be integrated into the modern print environment is that it makes the whole printing process faster, easier and more convenient. This is because print servers offer a centralized print management system that gives administrators the capacity to handle all print devices from a central location. Print servers also use a print queue storage area that efficiently manages print processes and keeps all files and documents in a queue so they can be successfully printed one after the other. Large office environments that have multiple printers and spend a vast amount of time printing documents and other work-related materials can take advantage of print server functions to simplify and speed up printing tasks and gain greater efficiency. When employees are forced to keep up with hefty workloads, poor performance and errors are more likely to occur. Having a print server in place can reduce the number of time employees spend on print-related tasks and help them focus more on other important areas.
Cost reduction is also one of the biggest benefits of utilizing a reliable print server. Unnecessary investment and purchases take up the biggest portion of the pie when it comes to business expenses. To cut costs and protect their finances, companies must avoid purchases that don't add value to their business. By incorporating a dedicated print server into the workplace and taking advantage of print server functions, businesses will no longer need to purchase additional printers and shell out a huge amount on extremely costly fleet maintenance. Not only is investing in a high-quality print server good for a company's financial health, but it is also a great way to save office space.
What to Consider Before Investing in a Print Server
While adding a print server to a corporate environment offers a big opportunity for businesses to get ahead of the curve, it can also pose challenges that could affect operational efficiency. If the server encounters an error while processing a printing request, it would significantly affect all the printers connected to it. A single technological failure can terribly result in wasted time, workflow interruptions, and enormous financial drains, so it is always important for organizations to choose the right print server for their business. Before making a decision to invest in print servers, businesses should carefully assess their option to avoid future disruptions and make sure that it can support all their printing needs.
The rise of innovative printing tools has given organizations the solid capacity to incorporate a greater level of efficiency into their daily operations and build a stronger connection with their existing and potential market. With the advent of more advanced printing solutions such as the print server, the printing process has become more convenient and less time-consuming. However, while the proliferation of innovative printing technology has incredibly improved the way businesses conduct print routines, it also has its costs. Hence, companies should only choose a solution that can address their current situations and add significant value to their business.